18 Facts
Below we've penned some interesting and need-to-know Oktoberfest facts concerning the famous Munich beer fest.
(1) There is no cost to enter a beer tent or the festival grounds.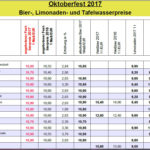 (2) In 2015, for the first time at Oktoberfest the price for a liter of beer (called a Maß, pronounced like 'moss') surpassed the 10-euro mark in all tents, costing between 10.10€ and 10.30€ (depending on the tent). In 2017, a liter of beer pushed up against the 11-euro mark in many tents at 10.95€. The following year, 2018, a liter of beer blew past 11 euro to an average of 11.40€. What does 2022 have in store?
(3) Besides beer, soda and mineral water are available in every tent, as well as alcohol-free beer (in liter mugs for the same price as regular beer) and some wine.
(4) Beer is served from 10:00 Mon-Fri (from 9:00 Sat/Sun) until last call around 22:20; tents begin closing at 22:45 but "Käfer's Wies'n Schänke" (No. 12 on our beer-tent list) stays open until 01:00, last call 00:15!
(5) In all tents you have to be seated to order a beer, with the exception of the standing zone in the Hofbräu tent (No. 5 on our beer-tent list). And you must order your beer from the server responsible for the section you're in.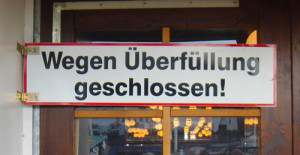 (6) Tents are packed Friday nights, all day Saturday, and Sunday till around 20:00. If there is a line to get in, try the side and back entrances. When the tent is utterly "overflowing with people" you'll see a large sign hanging outside with the words: Wegen Überfüllung geschlossen! (In which case, try your luck at another tent or come back later.) Week days are easier to get a seat in a tent but week nights are busy (and note that the last Thursday night of the fest is chock-a-block full). The larger the group you are, the more difficult it will be to find seats. Small groups of 2-3 persons are manageable (depending on when you go); larger groups should be prepared to split up or join one of our Oktoberfest packages.
(7) The drinking age in Germany is 18 for hard alcohol and 16 for beer, therefore you may see some juvenile faces in the mix, especially in the Schottenhamel tent.
(8) In the center of every tent is a stage for live bands to play sets from noon until closing with few breaks.
(9) All tents have a large kitchen and multiple chefs who prepare delectable Bavarian cuisine for lunch and dinner, e.g. cold cuts, sausages, soups, sauerkraut, schnitzel, schweinshaxe, pommes frites, potato salad, roast chicken and duck, pork with dumplings, apple strudel. Some tents specialize in a particular fare, like roast ox at the Ochsenbraterei (No. 7 on our beer-tent list) and smoked fish at Fischer Vroni (No. 1 on the list).
(10) It takes two months for construction workers to transform the fairgrounds from an enormous 100-acre asphalt expanse to a pulsating city of beer tents and food stands, roller coasters and carnival rides—and one month to disassemble it all.
(11) Some 6.5 million people will visit the fairgrounds during the two-week event and together they will consume the same number in liters of beer as well as 500,000 roasted chickens, 120,000 pairs of sausages, 80,000 liters of wine, 50,000 pork knuckles, 30,000 bottles of champagne, and a gazillion pretzels. All told, fest-goers will bring an economic boon to the city of Munich to the tune of around 1€ billion. That's roughly 62€ million per day!
(12) You'll be relieved to know there are roughly 965 toilets and 1 km of urinal troughs at the fairgrounds.
(13) Interestingly, by the end of Oktoberfest, Lost and Found has been handed a mountain of unclaimed items, such as hundreds of eyeglasses, mobile phones, crutches, wedding rings, and—get this—even a set of dentures! Crutches we understand, beer for centuries has been used as a curative, but dentures? What a night that must have been.
(14) Speaking of after-dark entertainment: With the introduction of electric lighting, the year 1880 marked the first Oktoberfest to take place in the evening thanks to illumination afforded by incandescent lamps. Today, however, we take things like amps and volts for granted and the thought of a blackout would be—well—unthinkable, thus the fairgrounds is equipped with two independent power-supply systems in case of a "lights-out" failure in the municipal grid.
(15) In 1892, the first glass beer mug was introduced; before that stoneware was the norm.
(16) In 1950, then Munich mayor Thomas Wimmer was the first Bürgermeister to tap the keg at noon on opening day and establish the "O'zapft is!" (It's tapped!) tradition.
(17) An immensely popular gimmick and sign of affection, lovers and admirers gift one another huge gingerbread hearts that are often worn around the neck before being eaten. "Ich liebe Dich" is the most adoring of all the quotations, meaning "I love you." Sweet, indeed!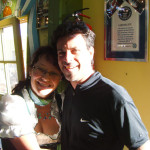 (18) Trivia: How many liter steins of beer can a female server carry at one time? In September 2009, for example, I had the pleasure of meeting Anita Schwarz, who on November 9, 2008 had set the-then (Guinness) world record when she carried 19 full beer steins (5 in either hand and 9 on top) totaling 45 kg, or 90 lbs—a full stein weighs an average of 2.3 kg, or 5 lbs—over a distance of 40 meters without any spillage and placed on a table.
Dating from 1850, Lady Bavaria is the glorious statue made of bronze towering 18 m (59 ft or about six stories) above the western edge of the fairgrounds. She is the personification of the kingdom by her idealistic creators, who complemented Bavaria with a sword, oak wreath and a lion to symbolize discipline, loyalty and strength. Climb the broad steps to reach her feet and a dynamite view. For adult 3.50€ (student 2.50€), you can climb another 124 steps up to the observation platform in her head (enter at back of statue, daily 9:00-19:30 during Oktoberfest). The neoclassical temple behind Bavaria is the Ruhmeshalle, or Hall of Fame, celebrating distinguished Bavarians of the era for their contributions to the arts, sciences and politics.

10 Tips
Below are 10 tips concerning the Oktoberfest fairgrounds and beer tents. They are:
(1) Footwear: Inside the beer tents do not wear open-toed shoes, i.e. no sandals! Those giant liter mugs are often broken by inebriated persons toasting a belligerent "cheers" resulting in thick glass chunks falling to the ground, which—as you can imagine—is very dangerous!
(2) Since Oktoberfest beer is brewed extra strong, more than 6% alcohol by volume, be sure to eat something substantial before you start drinking.
(3) Outside the hours 10:00-15:00 (Mon-Fri) food can be pricey at Oktoberfest; consider eating at one of the delicious yet cost-effective ethnic Turkish eateries on nearby Landwehrstrasse.
(4) But Oktoberfest isn't always a high-priced affair, you can save up to 30% off food as well as on merchandise and carnival rides during the week (Mon-Fri) between 10:00-15:00 from vendors (including the tents) displaying the sign "Mittagswiesn." If you're not sure or don't see the sign, just ask (but note the discount does not apply to beer).
(5) Every Tuesday is Family Day, officially 12:00-18:00, when families and their children receive discounts from most vendors on rides, games, etc.
(6) No matter which tent you choose, don't even think about paying with a credit card (the wait staff literally have no time for such transactions). Bring cash!
(7) The word Vorsicht the wait staff continually bark is a warning for you to "watch out" or "step aside" because they're "coming through!"
(8) Smoking is no longer permitted in tents at Oktoberfest, thus smokers will need to step outside to light up.
(9) Ride the Ferris wheel (8€/person) for a sweeping, even romantic view of the fairgrounds, and Munich. Don't forget your camera/phone!
(10) Lastly, a trip to Oktoberfest wouldn't be complete without a visit to the historic Krinoline merry-go-round, the fest's oldest carnival ride, dating from circa 1900. In those days, the Krinoline and the swings were all the rage. Originally the carousel was powered by hand-crank until an electric motor was installed in 1909. As the decades passed and sleeker, more thrilling novelty rides were introduced to the fairgrounds, the Krinoline lost its luster. To assist in recapturing its "darling" status, a mini stage was built into the merry-go-round for a live oompah band to entertain the young and old fair-goers waiting their turn for a nostalgic ride on the vintage carousel (about 3€ for 3 min).